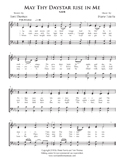 Difficulty Level: Medium
"May Thy Daystar Rise in Me" is taken from 2 Peter 1:19: "We have also a more sure word of prophecy; whereunto ye do well that ye take heed, as unto a light that shineth in a dark place, until the day dawn, and the day star arise in your hearts."
As sun and moon roll on their wings
And by Thy holy reckonings,
Do give their light by night and day,
So Father may my life portray
Thy glory and Thy majesty;
Then may Thy Daystar rise in me.
In darkness, still, Thy light transcends
Though darkness doth not comprehend.
Thy children walk by noonday light
Through all the stark and fearful night.
Oh, Father, I Thy child would be!
Oh, may Thy Daystar rise in me.
When I have taught mine eye to be
Kept single to Thy majesty,
Then shall my soul be filled with light,
And former darkness flee my sight.
Thus quickened, then, am I in Thee,
Then shall Thy Daystar rise in me.
Tomorrow dawns that perfect day,
When care and shadow fade away.
I'll see my Savior, face to face,
And live forever in Thy grace.
Oh, Father, hear my humble plea
And will Thy Daystar rise in me!