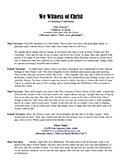 Difficulty Level: Medium
This 40-minute Christmas program uses scripture, music, and beautiful narrative to tell of the miracle of Christ's birth. The narration especially focuses on the roles of the various witnesses of Jesus, the shepherds, wise men, angels, as well as Mary and Joseph.
This 40-minute program includes a two-person narration and suggestions for original and traditional music selections that complement the narration.
The right-hand column lists the suggested songs from this website, along with links to the free sheet music.
This narration and these musical selections are free for non-commercial use. If you are interested in recording, adapting, or any use where admission fees or any other monies are collected, please contact us HERE before using any of these works.